Reading 9-11 yrs
Encourage reading and literacy skills with the Reading instant meeting! Discover how reading poetry with your group can be fun as you take turns vocalizing portions of the famous Canadian poem, "The Cremation of Sam McGee," and sharing your opinion of the piece.
We offer a variety of patches that can be used as a reward such as Storybook Adventures, Library Sleepover, Literacy, Book Swap, Read-A-Thon and more.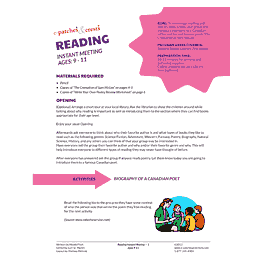 Author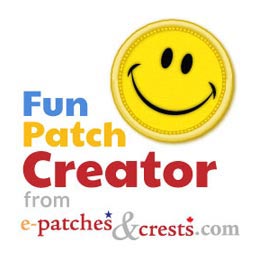 This Meeting Plan was researched and written by our intern Nicole Fitch. Do you have an idea for an Meeting Plan? Submit your own Idea, Plan, Craft, Camp or Game to smiles@e-patchesandcrests.com and if we post it on our site you will receive 15% off an in-stock order.
Updated Jun 14, 2016
Boy Scouts Girl Guides 9-11 9-11 Years Acting Activities Activities for Kids Biography Books Boy Scout Activities Boys Program Characters Crafts Crafts for Kids Downloads Free Free Ideas Free Meetings Free Plans Games Games for Kids Genres Girl Scout Activities Girl Scouts Girls Program Guiding Ideas Instant Meetings Kid Games Letter Tag Library Literacy Meeting Ideas Meeting Plans Meeting Programs Meetings Novels Planning Plans Poetry Program Planning Programs Reading Reviews Scouting Scouts Scripts Skills Stories Story
---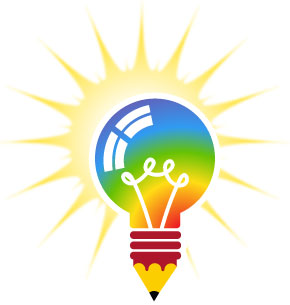 Want to Share your Idea?
Do you have something that you would like to share? We would love to see it! Submit your testimonial, camp plan, meeting idea, craft, recipe, game or any handy information that could be used by others.

Anyone who submits material that we post on our website will receive 15% off an in-stock or custom order.

function are_cookies_enabled() { var cookieEnabled = (navigator.cookieEnabled) ? true : false; if (typeof navigator.cookieEnabled == "undefined" && !cookieEnabled) { document.cookie="testcookie"; cookieEnabled = (document.cookie.indexOf("testcookie") != -1) ? true : false; } return (cookieEnabled); } if (!are_cookies_enabled()) { $('#hello').append('

It appears you may have cookies disabled in your browser settings. If so, please enable acceptance of cookies and try again.

'); $('#currencySwitcher').modal('hide'); } else { $(window).load(function(){ $('#currencySwitcher').modal('show'); }); $('#currencyForm').submit(function(evt) { evt.preventDefault(); var url = $(this).attr("action"); var formData = $(this).serialize(); $.ajax(url, { data: formData, type: "POST", success: function(response) { location.reload(); }/*, error: function(response) { $('#hello').html('

Please make sure you have cookies enabled.

'); }*/ }) }); //end submit $('#currencyUSForm').submit(function(evt) { evt.preventDefault(); var url = $(this).attr("action"); var formData = $(this).serialize(); $.ajax(url, { data: formData, type: "POST", success: function(response) { location.reload(); }/*, error: function(response) { $('#hello').html('

Please make sure you have cookies enabled.

'); }*/ }) }); //end submit }