Scavenger Hunt 5-6 yrs
Take your group out for a day of fresh air and outdoor activity with the Scavenger Hunt meeting plan! However, this isn't your regular kind of scavenger hunt. Search high and low for the usual feathers, bugs, and wild flowers, but also keep an eye out for a tree to hug or a swing to swing on. This scavenger hunt requires more physical activity than just looking around.
Looking for a way to reward your group? Check out our Scavenger Hunt - Telescope crest or search through our Fun Patches.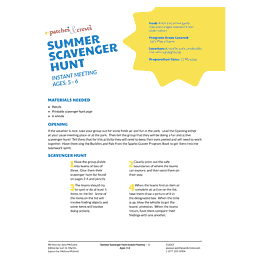 Author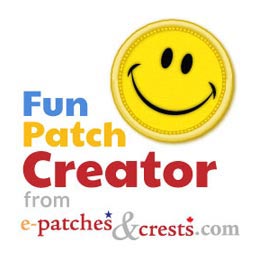 This Meeting Plan was researched and written by our intern Sara McGuire. Do you have an idea for an Meeting Plan? Submit your own Idea, Plan, Craft, Camp or Game to smiles@e-patchesandcrests.com and if we post it on our site you will receive 15% off an in-stock order.
Updated Jun 14, 2016
Boy Scouts Girl Guides 5-6 5-6 Years Activities Activities for Kids Ants on a Log Boy Scout Activities Boys Program Crafts Crafts for Kids Downloads Exercise Free Free Ideas Free Meetings Free Plans Games Games for Kids Girl Scout Activities Girl Scouts Girls Program Guiding Ideas Instant Meetings Kid Games Meeting Ideas Meeting Plans Meeting Programs Meetings Observation Planning Plans Play Program Planning Programs Recipes Recipes for Kids Scavenger Hunt Scouting Scouts Snacks Snacks for Kids Teamwork
---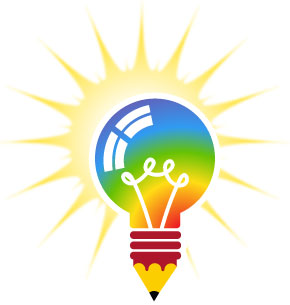 Want to Share your Idea?
Do you have something that you would like to share? We would love to see it! Submit your testimonial, camp plan, meeting idea, craft, recipe, game or any handy information that could be used by others.

Anyone who submits material that we post on our website will receive 15% off an in-stock or custom order.

function are_cookies_enabled() { var cookieEnabled = (navigator.cookieEnabled) ? true : false; if (typeof navigator.cookieEnabled == "undefined" && !cookieEnabled) { document.cookie="testcookie"; cookieEnabled = (document.cookie.indexOf("testcookie") != -1) ? true : false; } return (cookieEnabled); } if (!are_cookies_enabled()) { $('#hello').append('

It appears you may have cookies disabled in your browser settings. If so, please enable acceptance of cookies and try again.

'); $('#currencySwitcher').modal('hide'); } else { $(window).load(function(){ $('#currencySwitcher').modal('show'); }); $('#currencyForm').submit(function(evt) { evt.preventDefault(); var url = $(this).attr("action"); var formData = $(this).serialize(); $.ajax(url, { data: formData, type: "POST", success: function(response) { location.reload(); }/*, error: function(response) { $('#hello').html('

Please make sure you have cookies enabled.

'); }*/ }) }); //end submit $('#currencyUSForm').submit(function(evt) { evt.preventDefault(); var url = $(this).attr("action"); var formData = $(this).serialize(); $.ajax(url, { data: formData, type: "POST", success: function(response) { location.reload(); }/*, error: function(response) { $('#hello').html('

Please make sure you have cookies enabled.

'); }*/ }) }); //end submit }