Greetings!
I had a wonderful week away while my daughter Kara filled in during my absense. She will have just arrived in Auckland, New Zealand as I write this newsletter. I'll miss her as she'll be in the southern hemisphere working and travelling over the next year.
I'm sure she won't miss the snow as I'm getting very good at shovelling and no worries in not having a white Christmas. Speaking of which, we will be closed from December 24 - January 1. All orders placed between those dates will be shipped out the first week of January. I'm hoping everyone has a wonderful Christmas season!
Our newest feature is Guides on the Go custom crests. All you need to do is change your town / city and province. You can purchase them for 1st, 2nd, and 3rd year Guides. Minimum order is 10 of each year. Click here for more information.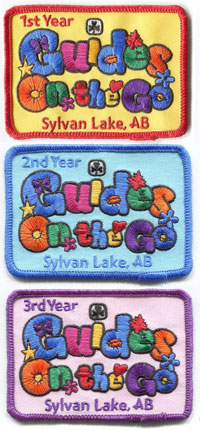 We've also introduced a new Facebook page so please visit and "Like" us. Our old fan page was discontinued by Facebook so we had to re-create this page and start all over collecing "fans".
Intern Wanted - Writing and Blogger Extraordinaire. You will research and write exciting, hands-on learning material and activities for kids based on specific themes. Visit the following page for a complete job description.
December's SPECIAL is 15% OFF all Christmas and Winter Activity crests. The discounts will show up automatically in your shopping cart upon checkout.
A reminder that we can also assist you with your custom patch order. You can request a free quote by clicking on the Custom Orders link at the top of each page.
If you are not an epc member, consider signing up as it's FREE. As an account member you will enjoy great benefits such as one FREE patch plus 15% off your first order. You can also save your billing and shipping information making the order process easier and quicker.
Until next time, keep smiling and happy collecting!


Lori St. Martin
Founder of
e-patchesandcrests.com (epc)
Smiles Guaranteed!