Greetings!
Happy New Year to everyone! I would like to thank each of you for helping make e-patchesandcrests.com grow and prosper in 2011. We have even more in store for the coming year so stay tuned!
So let's start 2012 off right with some new categories: Canadian Guiding, Écussons en français (Crests in French) and Stars 1" in size. We also renamed Merit Badges Basic to Just Pictures as there will be some new crests released in the coming weeks.
Our December feature was Guides on the Go custom crests. All you need to do is change your town / city and province. You can purchase them for 1st, 2nd, and 3rd year Guides. Minimum order is 10 of each year. We also released generic versions without customization that are available at a lower price.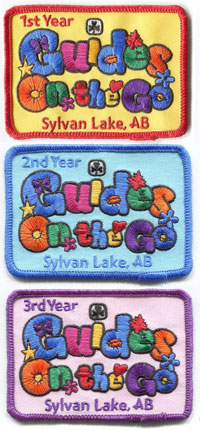 I also created a TOP 10 2011 LIST. Here are the top 10 selling crests last year:
1. Operation Christmas Child
2. Thinking Day 3 Girls
3. Lest We Forget Poppy
4. I Love To Camp
5. Thinking Day Globe
6. Survivor Camp
7. Halloween Witch
8. Lest We Forget Crosses
9. 100 Years of Camping
10. Trash PIck Up
January's SPECIAL is 15% OFF all Winter Activity, Thinking Day and Valentine's crests. The discounts will show up automatically in your shopping cart upon checkout.
We've also introduced a new Facebook page so please visit and "Like" us. Our old fan page was discontinued by Facebook so we had to re-create this page and start all over collecing "fans".
A reminder that we can also assist you with your custom patch order. You can request a free quote by clicking on the Custom Orders link at the top of each page.
If you are not an epc member, consider signing up as it's FREE. As an account member you will enjoy great benefits such as one FREE patch plus 15% off your first order. You can also save your billing and shipping information making the order process easier and quicker.
Until next time, keep smiling and happy collecting!


Lori St. Martin
Founder of
e-patchesandcrests.com (epc)
Smiles Guaranteed!