Embroidered Patches
Embroidered Patch Sets
Pins
Payment Options we accept
Newsletter
SIGN UP for our FREE newsletter and receive a bonus FREE PDF e-book of Campfire Blanket Patterns!
Can't Find It?
Add your crest design suggestions to our wish list.
Follow us
Testimonials
Very nice colors but it if you want to really impress you will need several packets in the fire. Using just one packet will result in a mini blue flame inside the campfire.
--Chris

The patches arrived this morning and they are perfect - exactly what we were looking for! Thank you for all your help Lori.
--AJ Appleton, Calgary Doula Association
Calgary, AB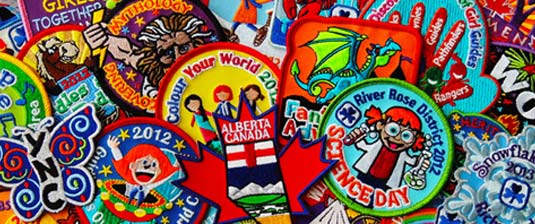 Custom Embroidered Patches and Crests
We offer custom orders whether you need a specific design for your camp, event, club or for any reason. You can either email us a scan of your artwork or sketch or just type out a description of what you are looking for and we can provide the artwork. Get your FREE quote simply by completing and submitting this form.
The price is determined by mainly four factors: quantity, percentage of embroidery, size and backing.
Quantity: Our minimum order quantity is 25 and there is no limit to a maximum number.

Embroidery Coverage: The amount of embroidery is also a consideration whether the crest is covered in 100% threads or only 50%. This can be generally calculated on how much of the twill fabric background shows through when you look at the crest or the amount of fabric that is not covered by threads. We have illustrated a few options below where the white areas represent twill fabric and have no embroidery. We can also provide a couple of other fabric background choices such as velvet or a soft cloth background but twill is the most common.
There are also special threads such as metallic, neon or glow-in-the dark. All custom order prices include up to 9 thread colours.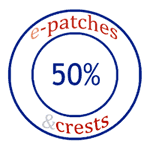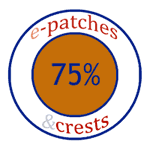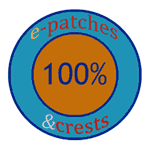 Determining Size: To determine the size, add the width and height together and divide the total by two; for example, 4.5" wide plus 1.5" high equals 6" and divided by two equals 3" for the overall size. Typically camp and District or Area or Troop crests are 3" in size.
Backings: Standard backing is plastic as it gives the crest stability. The backing is what's on the other size of the crest when you turn it over. Other backings are available at an extra cost and they include heat seal (iron on), super heat seal, velcro, adhesive or you can choose no backing at all where the threads show through and are not covered by any backing.

Borders: Merrow borders are a thick stitch that is applied to the edge after embroidery and cutting which provides a finished trim and bulkier edge. It also makes it easier for hand sewing.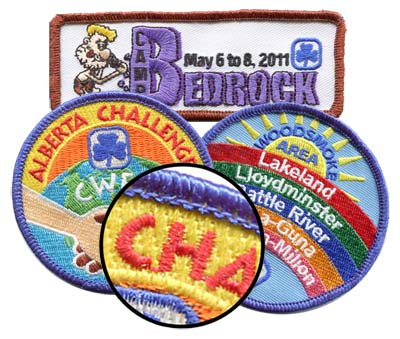 Laser Cut borders are produced without merrowed over-lock borders and therefore are less bulkier. They are typically cut to shape by hand or by using a hot-knife or laser cutter. They lend themselves to an iron on backing because of their 'flat' profile and eaiser to press with an iron.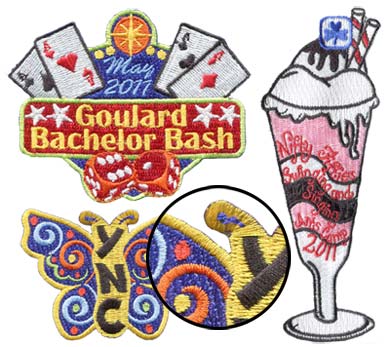 Custom Embroidered Woven Labels
Quite similar to embroidered patches, woven labels are softer and 'floppier' than regular embroidered patches. The main difference is the type of folds available.
Folds There are a variety to choose from.

Borders and Backings You have the same options as embroidered patches.
Free Quote
Get your FREE quote simply by completing and submitting this form. We will provide a detailed overview of pricing and information as per the information you submit. If you have any questions regarding custom embroidered patches and our pricing, please contact us.
Placing an Order
Once you place an order, we will email a scan of a stitched sample for your approval within a few days of placing the order. Once you receive the proof please review all information particularly the size, spelling and colours as well as billing, shipping information, price and delivery date. We will make revisions to the stitched sample until you are satisfied.
e-patchesandcrests.com assumes that its customers have the rights for usage on all trademarked and/or copyrighted logos and designs sent to us for reproduction. We will assume no liability in any trademark or copyright infringement disputes.